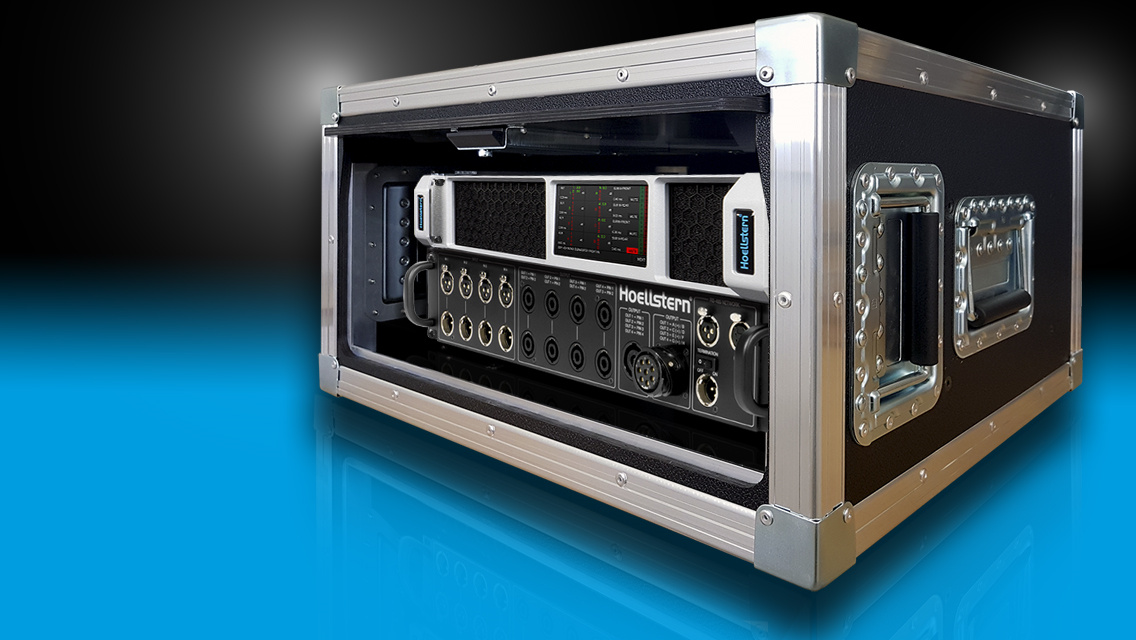 The Hoellstern system rack is made for all those who do the job properly. A perfect solution to have consistent racks on all jobs with identical pin assignments. This makes your daily routine a lot easier, ensuring a permanently reliable operation due to the ultimate quality and creating clear conditions in all situations.
The front and rear lids are undetachable and fully retractable. When pulled out they act as simple rain and sun protectors. The inner 19" frame has been fitted with Silentblocks to match the weight of one amp complete with touring patch panel. An ingenious accessory in dry-hire operation.
Technical details
19″ 4U rack, 52 cm (20.5 in.) deep.
Large handles and 4 rubber feet.
Inner cage with guide rails and shock mount equipment.
Undetachable and fully retractable front and rear lids.
4 x XLR-3 IN, 4 x XLR-3 OUT (front side).
8 x 4-pole SpeakON, 1 x 8-pole SpeakON, 1 x 8 pole CA-COM (front side).
2 x XLR-3 RS-485, switchable RS-485 terminating resistor (front side).
4 x XLR-3 cable, 2 x SpeakON cable (rear side).
1 x D-SUB bus cable to match the amp's rear side.
The cables are labelled.
Front panel with abrasion-proof lettering.
All XLR panel-mount connectors as Neutrik all-metal versions.
All SpeakON sockets and plugs as high-current versions.