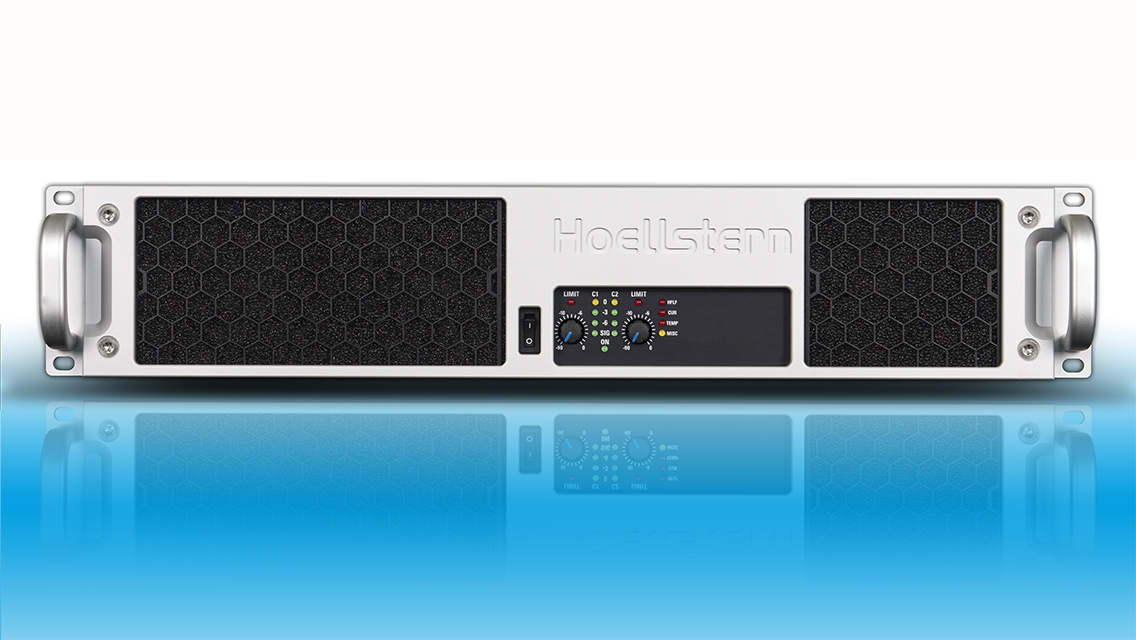 Pure power

All amplifier models deliver uncompromisingly high output powers between 8 kW and 30 kW. This allows to successfully realise all PA tasks in permanent installations and in the touring business. The extreme load stability ensures a clean control of 2-ohm loads. "Suitable" and "capable" don't describe the force of these amplifiers exerted to drive loudspeakers in an audiophile way and control them dynamically.
Whether a cold start at -40 °C (-40 °F) in Russia or a searing 40 °C (105 °F) summer heat on the meadow – these amplifiers deliver a clean, audiophile and punchy amplification under all circumstances. Their high efficiency of up to 85 % and the no-compromise design from the aerospace and automotive industries deliver output powers and output currents that are without equal.

Super cool
Reliable

The high reliability has shown since 2004 with all kinds of sound reinforcement jobs. Whether in 2-ohm running mode on hardstyle techno trucks, at large festivals or smaller events with only one amplifier. With five models an integrative material pool can be defined and managed in an economically optimal way in the rental and touring business. With two inputs and outputs the amps are very well suited for all applications.
The continuously growing K2 loudspeaker library with currently 520 presets and 300 internal DSP memory locations ensures a maximum and worldwide unique flexibility. The amplifiers are the platform for all loudspeakers worldwide. Just like the amps, the K2 loudspeaker libraries are designed with utmost precision.

Flexible
Compact

The compact construction with 2 height units and 30 cm (12 in.) in depth, has a possibly record-breaking compactness and a surprisingly low weight of 10 kg (22 lbs.). With its many insert nuts and high-strength screws including locking varnish, the robust sheet steel housing is exemplary for the legendary quality of the Hoellstern amplifiers.
A 5-year warranty and a guaranteed production in Germany are an essential part of our product philosophy.

There are many more benefits that are worth mentioning, but watch out: the motto "hearing is believing" is true. A qualified A/B check says more than a 1000 words.

5 years warranty
Models
Engineered and made in Germany
| Amplifier | 8 Ohm | 4 Ohm | 2.7 Ohm | 2 Ohm | 1 Ohm | Bridged |
| --- | --- | --- | --- | --- | --- | --- |
| Hoellstern 12.2 | 2,200 W | 4,400 W | 6,300 W | 8,000 W | – | 16,000 W |
| Hoellstern 7.2 | 1,000 W | 2,000 W | 3,000 W | 4,000 W | – | 10,000 W |
What our customers say
We prefer to let those do the talking who rely on us …
Well, I was floored and all others were too. Unbelievable, listening to loud music is nothing but fun! Your limiters do very precisely just what they are physically supposed to do.

Technical supervisor

Club in Berlin

We did an A/B shootout to compare the power consumption of the Delta 14.4 with other digital power amps. Hoellstern has a much better power management!

Technical service provider

Bayreuth
Specifications
Facts, facts, facts
All models feature the same high component quality
All models play on the same high level of sound quality
2 XLR all-metal female sockets plus 2 XLR all-metal male sockets for slave operation
2 SpeakON sockets in high-current version and twofold thick-copper PCB
1 PowerCon AC mains input with fully active power factor correction (PFC), virtually no reactive power on the AC grid
AC mains input, actively monitored
Operational from 80 V to 250 V AC
Longterm power consumption limited to 16A rms (16 B automatic circuit breaker)
Dynamic power consumption of up to 48 A
Very high efficiency of up to 85 %
Massive heatsinks, screwed directly onto the steel housing
Extremely high thermal stability for toughest operating conditions
Power supply with extremely large energy buffer
Massive output stages with a max. current output capability of 125 A per channel
Output blocks with 8-layer thick copper PCBs
Super high-grade fans with a service life of > 250,000 hours at +40 °C
Minimum allowable turn-on temperature: -40 °C, thus suitable for all seasons and climate zones
PCBs sealed against moisture, dew formation and aggressive substances
2U 19″ rack enclosure, only 30 cm (12 in.) deep and weighing only 10 kg (22 lbs.) for light and compact racks
Rugged sheet steel construction
Ideally suited for touring business and permanent installations
5 years warranty with guaranteed production in Germany
Number of individual inputs
2
Number of individual outputs
2
THD at 1 kHz at 4 ohms and -3 dB
< 0.03 %
Frequency response 20 Hz to 20 kHz at 8 ohms at -15 dB
+ / – 0.5 dB (typically + / – 0.05 dB)
Damping factor at 8 ohms, 100 Hz
> 1000, typically 1500 comprising the SpeakON® connectors, typ. 5 mOhms
Latency without DSP or bypass (connector to connector)
0.000 ms, ZeroLatency™ technology
Signal limiter
Yes
Current monitoring
Yes
LF limiter
Yes, reduces the gain gently
HF limiter
Yes, reduces the gain gently
AC mains supply monitoring /
Power management
Yes
Rearmounted gain factor toggle switch
26 dB and 32 dB basic gain
Frontmounted rotary gain controls
0 dB to – 100 dB, digitally controlled
Rearmounted bridge mode switch
Channel 1 and 2: Yes
AC mains supply input
1 x Neutrik® PowerCON®
Analogue input and slave connectors
2 x 3-pin Neutrik® full metal socket and 2 x 3-pin Neutrik® full metal plug
Amplifier output connectors
2 x 4-pin high current Neutrik® SpeakON®
Remote control network
Yes, D-Sub 9 socket, RS-485 network, RS-232 point-to-point, Hoellstern® protocol
Frontside status LEDs display
Standby, Signal Input, VU -6 dB, VU -3 dB , VU 0 dB and Signal Limit
Frontside error LEDs display
Current, HF / LF Limiter, Temperature
Frontside rotary controls
One rotary step control with digital sensing per channel
Frontside switches
Standby / ON switch, software-controlled
AC mains input
180 VAC to 265 VAC, operative from 70 VAC, 400 V tolerant
Starting current
10 A softstart
Intelligent AC mains power management
Yes, iCVP® technology, dual hard-regulated switching power supply
Efficiency
Up to 84 % (AC mains input to audio output)
AC mains fusing
16 A (class B breaker), for personal alarm systems class C circuit breaker or better
Housing construction
Black powder-coated steel body , anodised aluminium front panel
Handles and 19″ rack ears
Yes, anodised aluminium, replaceable
Air filter and grids
Open-pore foam, spring steel grids, black powder-coated, vacuum-cleanable
Air rate and fans
2 fans, temperature-controlled speed, front sucking
Dimensions
Width: 19″ (483 mm), height: 2 RU (88 mm), overall depth: 290 mm from rack ears
Weight
10 kg (22 lbs), shipping weight 12 kg (26 lbs)
Output voltagepeak
> 190 V
Output current cut-out limitpeak
(with 5 retries)
> 125 A
Output powers and permissible nominal loads
Output C1
Output C2
8 ohm (Bridgeable)

2,200 W (8,800 W)
2,200 W
4 ohm (Bridgeable)

4,400 W (16,000 W)
4,400 W
2.7 ohm

> 6,000 W
> 6,000 W
2.0 ohm

> 8,000 W
> 8,000 W
Output voltagepeak
> 130 V
Output current cut-out limitpeak
(with 5 retries)
> 96 A
Output powers and permissible nominal loads
Output C1
Output C2
8 ohm (Bridgeable)

1,000 W (4,000 W)
1,000 W
4 ohm (Bridgeable)

2,000 W (8,000 W)
2,000 W
2.7 ohm
3,000 W (10,000 W)
3,000 W
2.0 ohm
4,000 W
4,000 W
1.6 ohm
5,000 W
5,000 W